If you are an "old school" kind of guy still avoiding the internet, consider some of these numbers:
4 in 5 consumers use search engines to find local information.

A whopping 80% of google search interest in "near me" come from mobile devices.

91.5% of the traffic share generated by page 1 of Google search results.

No matter what business you own and what you do, you need to have it exist in the digital space too. We've gathered key benefits and a bit of stat that proves this idea.
You have put it off long enough and take advantage of the most powerful marketing tool available.
1. Your site must make a strong page 1 impression.
Make a strong first impression with an attention grabbing, professional website that highlights your background, services, and solutions.
Make a personalized first impression by minimizing stock photos in favor of personal images and videos.
Use local references as examples of your successes.
Educate the target audience with Blog postings.
It is simpy human nature to be drawn to sites with a large number of positive ratings. Encourage clients to take a few minutes to rate your service. It will increase your chances of reaching the potential clientele.
2. Keep in touch with regulars and attract prospects
Even if you're very conservative and rely on a brick-and-mortar business, you must admit that it's lagging far behind online projects in terms of availability.
A digital interaction influences $0.56 of every dollar spent in an offline store.
When your physical store is closed during holidays, weekends or due to some technical reasons, your online shop will continue functioning all-around-the-clock.
An estimated 1.92 billion people are expected to purchase something online in 2019.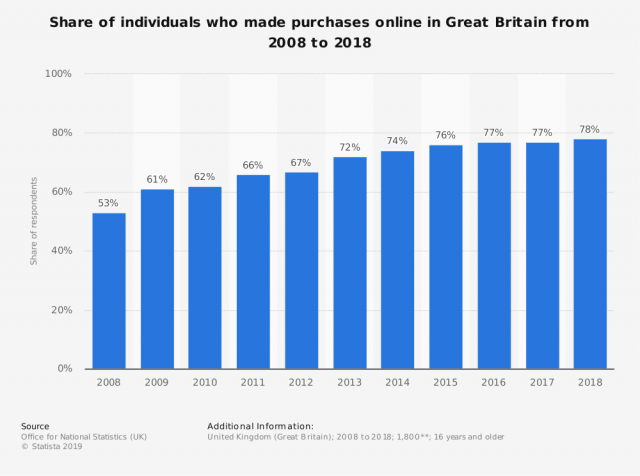 Those customers who need your assistance or advice, don't have to adapt to your working hours. They can send a request at any time.
What's more, the online presence helps you expand the borders. A small local startup has all chances to become a well-established company selling globally, which means that it's better to make your website multilingual.
Whatever online presence you have, it lets you maintain relations with existing clients and build effective marketing campaigns.
You can email your clients about discounts, big events, new comings, product updates and plenty of other things.
READ FURTHER
How to speed up your website
3. Inform, showcase, and educate
People use the web for different purposes—searching, entertaining, buying, communicating. However, their most important goal is to satisfy information hunger.
That's why it is crucial to organise your website in the way so that it will be both engaging and informative.
Traditionally, startup sites have several pages or their combos:
Home
About Us
Features
Pricing
FAQ
Blog
Every page, module, and section should be self-contained and designed according to the UI/UX requirements.
The homepage may consist of different blocks; however, it's important to include company info, product descriptions, CTAs, testimonials, and recent projects. The last element proves your knowledge and expertise.
The blog is crucial for those who care about SEO. By creating and publishing good materials, you can rank higher on Google in a matter of months.
Surprisingly – over 4 million blog posts are published on the Internet every day, but keep in mind that your content should be valuable and humane, although only 48.2 % of internet traffic comes from humans.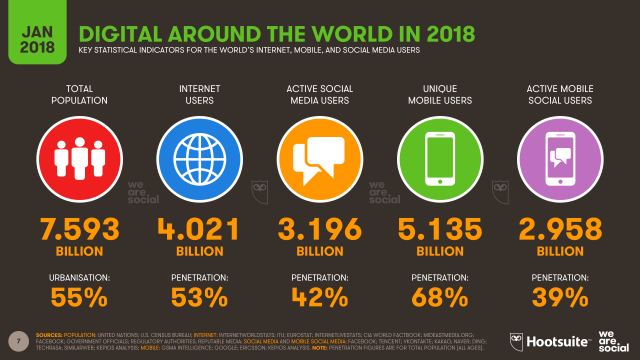 4. Take advantage of digital marketing and save costs
There is another point why have a website for your business.
Digital marketing tools let online entrepreneurs promote their websites at fewer costs comparing with the TV commercial, billboards, and ads in newspapers.
Even paid Google ads are not so useful now as they were several years ago. According to a recent survey, at least 70% of people dislike mobile ads and use online ad blockers.
Is there another way of promoting a website? Yes, you can take advantage of email marketing, social media management, and develop a corporate blog.
Why do businesses need a website blog?
Statistics say that companies who blog receive 97% more links to their website, which means that you should create a blog to be successful online.
Managing a blog is a big deal, and it's better to hire a team of professionals: a content manager, SEO specialists, and a copywriter.
Be patient, work hard, and get ready to see the first results in conversions and leads in several months. We promise they will amaze you!
It's worth mentioning that creating and running a blog is not cheap. However, it's a good investment that will give back if you take it seriously enough.
5. Deliver excellent customer service
Among the benefits of a website for a startup, there is one that is very important for early-stage projects. We're talking about superb client support.
Certainly, nothing can be compared with the direct assistance provided directly or by phone, but there is a category of clients that prefer online interactions.
It is especially true for youngsters who fancy solving tasks right here and now.
How to satisfy the most demanding clients? Make sure that your client support reply within, at most, two business days or provide customers with 24/7 assistance.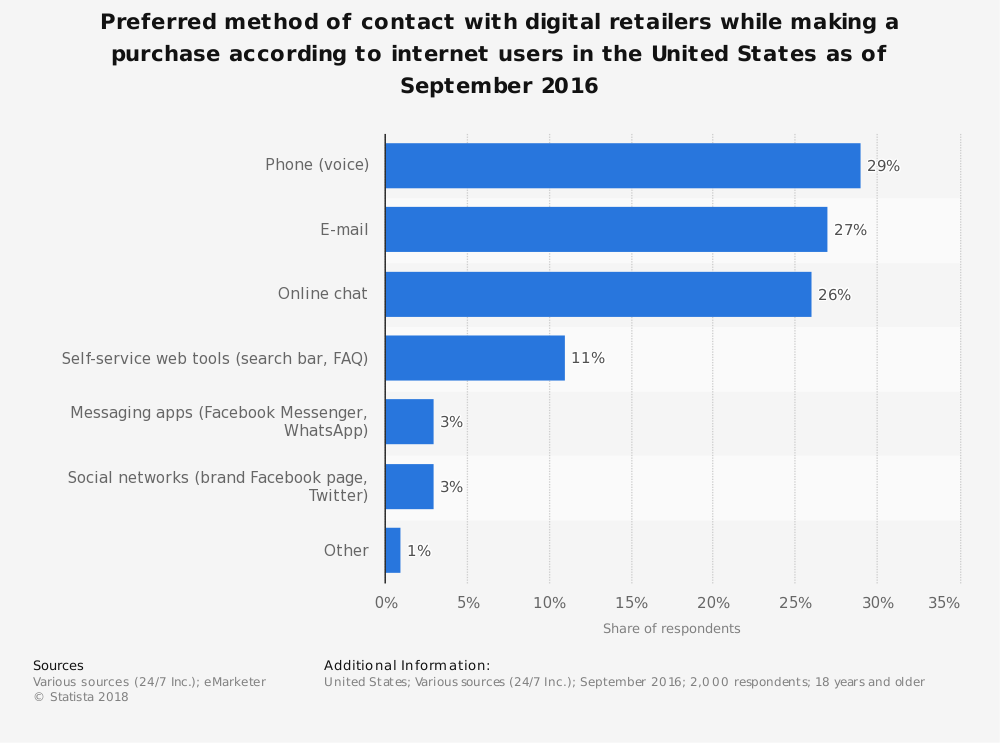 For urgent replies, you can integrate a chatbot, create a help centre or develop a digital assistant. Professional and competent customer service will give you a competitive edge over rivals.
READ FURTHER
Chatbots for ecommerce: how to make your store drive more sales
6. Generate trust and build a reputation
Put yourself in the shoes of the rest of web users for a moment. Do you remember the time when you stumbled across a brand, project or a solution that interested you? What did you do then?
We bet you asked Google to find a website with this interesting idea.
When you like something but can't find any records about it on the web, you may stop taking it seriously. For a new startup or small business, it's essential to create brand awareness and generate a solid reputation.
A website reflects your business intentions, attitude towards clients, mission, and approach. To gain credibility and trust, it's not enough to have only a corporate page on social networks, it may be a good addition, but that's all.
7. Beat competitors
The last merit in the advantages of a website for business concerns your chances to beat the competition.
In the world where almost everyone possesses an online presence, it is very hard to stand out, but we know how to do it. Pillars of optimal user experience is a sophisticated architecture, intuitive navigation, UI/UX design, and engaging content.
The right combination of all these factors will help you satisfy even the most demanding customer.
© 2019 Quetzal Web Design All Rights Reserved